Who is your favourite SOB?
Welcome to the SOB Wiki!
"We are going to shower this crowd with golden rock... then I'm gonna piss on 'em."
Click here to play a rare SOB game!
Click here to listen to their full discography!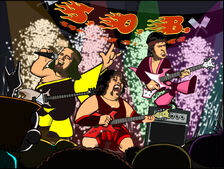 What is SOB?
Edit
Sons of Butcher is a Flash animated Canadian cartoon based on a band with the same name. It focuses on Sol, Ricky, and Doug's butcher shop in Steeltown, as they try to keep their butcher business going and get fan support with their band on the side.